Ashaiman Youth Demonstrate against TDC over sale of Community  Park

Warning: Illegal string offset 'size' in /home/www/ghananewscourier.com/wp-includes/pluggable.php on line 2591

Warning: Illegal string offset 'default' in /home/www/ghananewscourier.com/wp-includes/pluggable.php on line 2592

Warning: Cannot assign an empty string to a string offset in /home/www/ghananewscourier.com/wp-includes/pluggable.php on line 2592

Warning: Illegal string offset 'alt' in /home/www/ghananewscourier.com/wp-includes/pluggable.php on line 2593


2 min read
Warning
: Illegal string offset 'size' in
/home/www/ghananewscourier.com/wp-includes/pluggable.php
on line
2591
Warning
: Illegal string offset 'default' in
/home/www/ghananewscourier.com/wp-includes/pluggable.php
on line
2592
Warning
: Cannot assign an empty string to a string offset in
/home/www/ghananewscourier.com/wp-includes/pluggable.php
on line
2592
Warning
: Illegal string offset 'alt' in
/home/www/ghananewscourier.com/wp-includes/pluggable.php
on line
2593
Ashaiman Youth Demonstrate against TDC over sale of Community  Park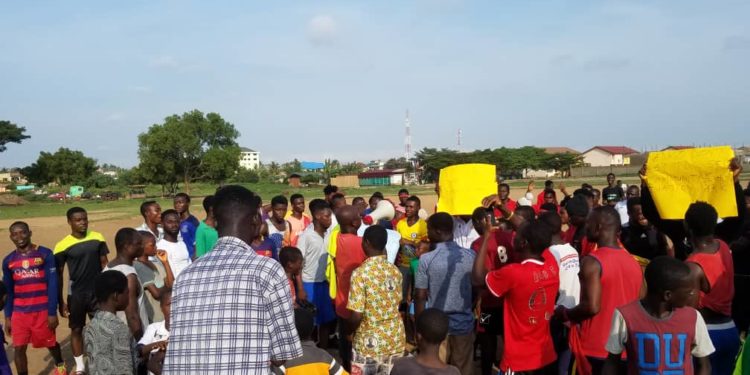 The Youth and residents in Ashaiman Newtown, part of Lebanon and community 22 have demonstrated against the Tema Development Corporation (TDC) for allegedly selling out the starlight school park to a Methodist Church for a church building.
The demonstrators who were clad in red carrying placards with inscriptions such as " TDC leave our community park alone" and "Starlight park is the only park point we have" among others have vowed they are not going to allow TDC sell the park.
According to the youth, the park is the only playground in the community which serves the above neighboring areas. "This park serves as a recreational centre where functions are being held to entertain the community and we are not going to allow TDC to sell it," one of the aggrieved youth said.
"This park serves as an evacuation point for the people in the area during flood seasons and emergency times. We plead with the government to resist its sales," another resident said.
They noted the said park has trained the likes of Thomas Partey, Maxwell Baako, Awudu Issaka and the likes of others to mention but a few. The youth called on the government and the current GFA president who is interested in training the grassroots players to rescue the park from being sold
Meanwhile, the Member of Parliament for Ashaiman Ernest Norgbey noted that most of the lands in Ashaiman have been sold off and he is going to summon the minister and quizz him on the floor of parliament to make sure the park and other lands are retrieved.
By:ABDUL EL AZIZ FUSEINI
How useful was this post?
Click on a star to rate it!
Average rating / 5. Vote count:
We are sorry that this post was not useful for you!
Let us improve this post!
Thanks for your feedback!